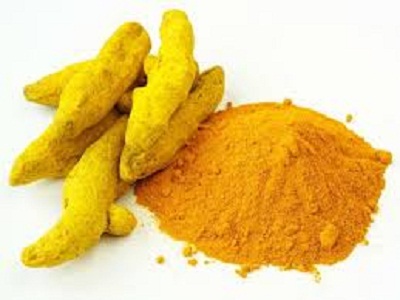 Curcuma longa, in the common man's term "turmeric" is a flowering plant belonging to the ginger family. A native of the Indian subcontinent and Southeast Asia, the turmeric plant is a perennial, rhizomatous and herbaceous plant.
The curcuma species is greatly diverse in variety and India alone accounts for some 40 – 45 species of the plant on the subcontinent. Thailand follows closely on India's heels accounting for 30 – 40 of the species. Such is diversity of the wonder spice – Organic Turmeric Powder.

How the Plant is Used?

Every year half of the crop is gathered for its rhizome and the other half again divided for consumption and proliferation the following year. The rhizomes can be used in two ways – either freshly consumed or used or boiled in water and dried to be ground into a deep orange – yellow powder.

Properties of the Turmeric Plant

When the rhizome of the turmeric plant is boiled in water and dried to obtain a powder from it we get a deep orange-yellow coloured powder. The powder has a warm, bitter, black pepper-like flavour with an earthy and mustard-like aroma. It is a very common colouring and flavouring agent of food.

The bright yellow chemical produced by the turmeric has been approved as a food additive by the World Health Organization, European Parliament and the United States Food and Drug Administration. Another property of the plant is its dyeing nature. Both Hinduism and Buddhism have used it for dyeing the robes of monks and priests which is the reason why this dye travelled abroad to many countries.

Health Benefits of Organic Turmeric

Curcumin, the pigment found in turmeric from which it garners its bright tincture has added to its already full kitty a wide range of health benefits. These benefits can be enlisted below under the following heads.

1. A Natural Anti-Inflammatory: However much inflammation is necessary for the human body its prolonged existence causes severe damage and chronic conditions of the heart and cancer which can all be warded off with the curcumin in turmeric wherein the inflammatory molecules are terminated. It also helps to keep rheumatoid arthritis and inflammatory bowel diseases at bay.

2. Powerful Antioxidant: Curcumin is a sturdy scavenger of the free radicals of oxygen which are chemically active molecules which damage the healthy body cells. It helps to manage cardiovascular diseases. Along with it, it manages cholesterol and triglyceride levels and improves blood pressure. It also takes the edge off the risk of cataracts, glaucoma and macular degeneration.

Medicinal Values of the Turmeric Plant

It has for a very long time known to have medicinal properties. For centuries now in Asia, it has been incorporated as an important ingredient of Ayurvedic, Siddha and orthodox Chinese medicines. It is also an integral part of the animistic rituals of the Austronesian people. Turmeric is also an intrinsic part of folk medicine in India which is why Organic Turmeric Powder Suppliers in India are looking to widen their horizons.

Culinary Values

Turmeric is a key ingredient in Asian cuisine because of its mustard-like and earthy aroma, pungent, bitter, warm and black pepper-like flavour. It is a part of the main cuisine of Asian countries but sometimes it is used in some sweet dishes too. It is one of the many key ingredients of curries.

Apart from being used in mainstream cuisine, it is also used in canned beverages, baked and dairy products like ice cream and yoghurt, yellow cakes, orange juice, etc it can also be consumed fresh like ginger as in numerous Asian recipes like pickles, soups and a hot drink called "turmeric latte". Asia being a big consumer of turmeric, Organic Turmeric Powder Exporters of India have the capacity to feed a huge market with its demands.