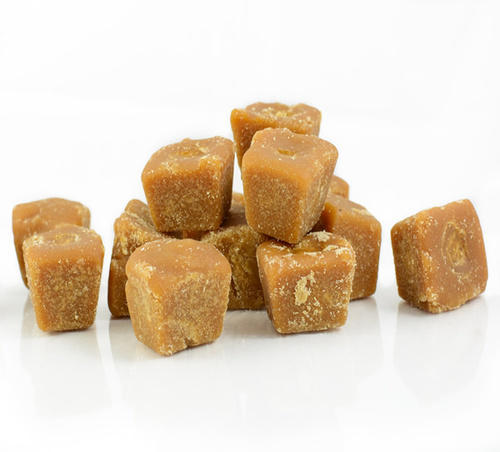 Jaggery ranks high among all the natural sweeteners for its health benefits and its use in several industries that depend upon agro produce. It is produced from sugarcane juice or date palm sap in a concentrated form. It contains about 50% sucrose and has a brown or dark brown colour.
It is consumed as an important food ingredient in countries such as India, South Africa and Southeast Asia. India produces 70% of the world's jaggery. The highest production in India is in the states of Maharastra, Uttar Pradesh, Tamil Nadu, Karnataka and Andhra Pradesh. India is thus one of the prominent exporters and traders of Jaggery in the world.
The Preparation Process Of Jaggery Cubes
During preparation, the sugarcane juice or the palm sap is first extracted using a crusher. It is boiled till it becomes concentrated. The water from the juice is evaporated and cooled. It is solidified in form of jaggery blocks or cubes.
In the Indian markets, jaggery is usually packaged as cubes and is weighed by kilograms. For overseas markets, Jaggery Cubes Exporter uses jute bags packaging and the standard minimum order quantity is 5 metric tonnes.
The Uses Of Jaggery Cubes In The Food And Beverage Industry
Jaggery is a primary ingredient in Indian sweets and is highly preferred as a replacement for refined sugar for its numerous health benefits Jaggery is also used widely in other processed food items such as confectionery in toffees, candies, chocolates and cakes as a healthy substitute.
The beverage industry uses jaggery in diverse syrups, flavouring agents in many non-alcoholic drinks and health tonics. Palm jaggery is used in the preparation of Palm wine, an alcoholic beverage. Jaggery Cubes Exporter fulfils the high demand for this organic sweetener. The demand for jaggery is going through an upward trend and is set to grow manifold in the coming years.
Health Benefits of Jaggery Cubes
There are many ways of counting the health benefits of jaggery described as anti-oxidant, anti-cancerous, chemical free and organic, An important part of the household food preparation and processed food industry, jaggery caters to the alternate medicine niche too.
Ayurveda the traditional system of medicine identifies jaggery as having hot properties (Ushna). It is an organic sweetener that provides energy. It produces the heat necessary for proper digestion. Hence, Ayurveda prescribes consuming a bit of jaggery after daily meals to boost metabolism and improve digestion. Jaggery Cubes Exporter products are thus useful energy boosters that come in the appropriate bite size.
Besides Ayurveda, the benefits of jaggery are stressed by the medical fraternity as well. They are an easy and quick source of phosphorus, iron, calcium and iron. The various benefits of jaggery are:
Helps in weight loss- jaggery prevents retention of water in the body
Cleanses the digestive system
Relieves constipation
Bronchial tract cleanser. Gives relief to common cold and cough
Purifying blood
Improves overall immunity of the body
Jaggery is a complete and enriched food on its own. The demand for Jaggery is bound to rise. The Jaggery Cubes Exporter with a guarantee of quality product and environment-friendly packaging is set to have a worldwide reach.